New Mover Survey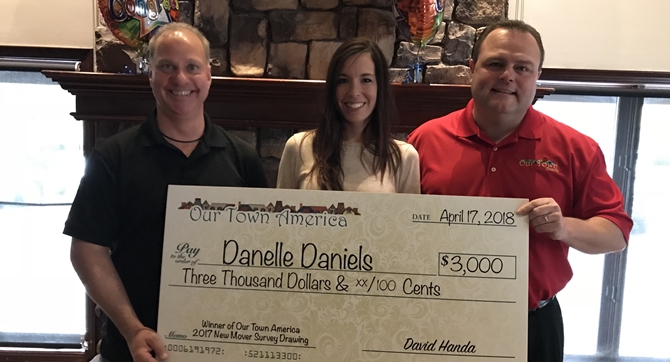 Our 2017 Winner — Danelle Daniels of Cleveland, OH!!
Pictured with Rivals Sports Grille owner John Simmons (left) and Our Town America Cleveland franchise owner, David Handa (right).
We care about the needs resulting from your move. We count on your response to make sure that we have selected good businesses in the area. If you could let us know how you felt about the businesses in our package, it would help a new mover like you!
Annual Drawing
Because of your generous help, we are offering an opportunity to win $3,000 Towards a Cruise (Airfare Included) or a $3,000 Check. Simply complete this survey and you will automatically be entered in a drawing where a winner is selected at the conclusion of the preceding calendar year. Winners will be notified by e-mail. Good Luck!
Quarterly Drawing
When you complete this survey, you are also automatically entered into our quarterly drawing for a $250 Prepaid Giftcard! Winners selected at the conclusion of the following months: March, June, September, and December.
Review Drawing
Simply write a review regarding your experience with our new mover program. We want to be sure we are representing the best businesses in your community and not neglecting any worthy businesses. Winners selected at random.
Reward: $25 Prepaid Gift Card | Review Us Here »
Frequently check back on your review to see if we have replied. If we ask you to send us an email, we may be attempting to inform you of your winnings. Good luck!
---
How to Begin
Please begin the survey by entering the following information and press the "Continue" button. We use this information to verify you were sent a package and to find out which certificates you received in your package.
Please Note
If it has been over three (3) months since you received your package, you need to send your survey via postal mail.
You must have used at least one certificate to submit the survey.
By entering your email address, you agree to receive special offers from Our Town and our affiliates.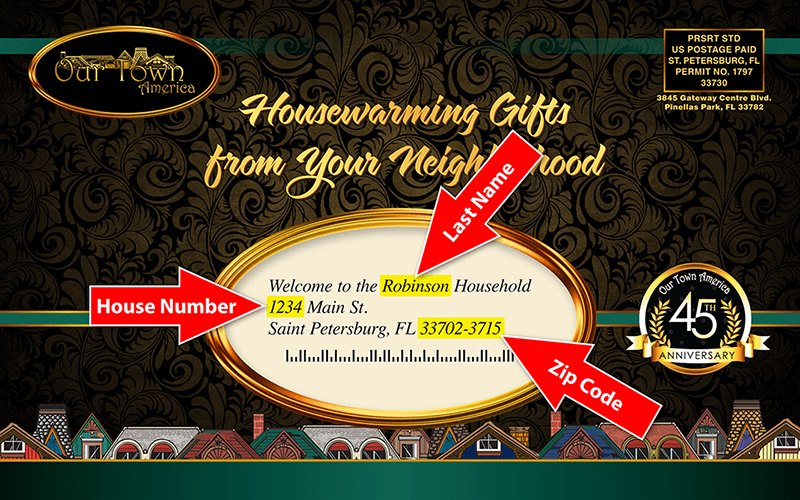 © 2019 Our Town America, Inc. | All Rights Reserved